Parkdale – Gray Residence (1913)
"We bought our 1913 Craftsman style house in Parkdale in 1990. It was divided into three suites (one on each floor) and in obvious need of restoration. The "bones" of the house were in excellent condition so we knew the house had a solid structure to build on.
The motivation for restoring a heritage home in Calgary came from having lived in the U.K. for a number of years while attending university there. I developed an appreciation for architecture and, by Canadian standards, "old" buildings. Restoration, rehabilitation, conservation, protection and preservation of historic buildings in the U.K. is common place. The legislation which makes this all possible has been in place for many decades. This has not previously been the case in Calgary and Alberta.
An additional motivation came from seeing the demolition of large numbers of historic homes in the City of Calgary. Very few of the City's historic buildings were seen as being worthy of being kept for future generations. Homeowners and developers were not required to consider the historic attributes of their home prior to demolition.
All it took to accomplish bringing our house back to life was desire, stamina, the expertise of an architect and general contractor who understood heritage homes and money. We did this through three successive renovations spread over a few years. Of course, we would not have been successful without the professional advice and detailed input from the Heritage Planners at the City of Calgary. We also had assistance from the Province of Alberta. 
During the early stages of renovation, we became aware of the ability to designate our home as a Municipal Historic Resource, through a City of Calgary Council adopted Bylaw. We contacted the Heritage Planners at the City of Calgary who visited our house, recorded an inventory of its historic characteristics and advised us on the process of designation. This involved research which included a review of existing sources of information about the history of our house.
We now live in a home which is 107 years old and has the protection of a Municipal Historic Resource designation. Obtaining this designation was a satisfying experience and I would advise anyone considering designation to contact Heritage Calgary to obtain more information."
Paul Mercer
Elbow Park – William H. Hattel Residence (1920)
"I love Elbow Park! The varied architecture of its older homes gives this century-old neighbourhood a charm that few can match. I have owned one of those older homes since 1970, and as I have watched older homes replaced by new ones, not always in compatible styles, I have wondered how to preserve the character of the neighbourhood for current and future residents, and how to preserve my own home.
I had heard about the process of designating a home as a 'Heritage Resource', and to get more information, I attended in November 2018 a workshop called 'Demystifying Designation' hosted by Calgary Heritage Initiative. The speakers represented the City, the real estate industry, buyers, sellers and owners of designated 'Municipal Heritage Resources'. I was so reassured by these speakers that I proceeded with Designation and now am the proud owner of a 'Municipal Heritage Resource'. I'll be making improvements (to non-designated features), but they won't be wasted on a tear-down.
Now my reason for writing this piece: If you have an older home that you cherish, anywhere in Calgary, I encourage you to attend the next 'Demystifying Designation' workshop (they are held periodically) and learn what it's all about."
John Heffer
Sunnyside – Orman Residence (1912)
"House shopping is a daunting process. We knew we wanted something with character, curb appeal, and something special to set it apart from the rest. We wanted a house that already felt like a "home". 
After a few viewings it became clear that there is a vast difference in the quality of historic homes in this city. Some are in nearly original condition, with one hundred years of wear and not enough upkeep. Some have been renovated so thoroughly almost all the charm we were searching for was gone. Some had been renovated but poorly and the quality was gone. We were searching for one of the few precious homes that have been well maintained in both character and quality.
Finding a house for sale with a historic designation was definitely not a negative. It was like having a guarantee that the previous homeowners loved and took pride in owning this home. And they felt it was worthy of protecting the home itself and some of the things that make it special. It also encourages us to do our best to ensure the house is well maintained, and its charm and character is preserved. 
Through the purchase process we were also able to meet Doreen Orman. She is the wonderful woman who designated the home. Doreen had lived in Sunnyside for 70 years, and lived in this home since 1948. It was a delight getting to meet her. She shared many wonderful stories about the home and community that have strengthened our connection to our home."
Elicia Cantafio 
Elboya – Calgary Trend House (1953)
"The decision to designate the Calgary Trend House took a few years to make, even after the house had been added to the City's Inventory of Historic Resources. While we love the house and obviously thought it is special to us, there were a couple of thoughts that initially held us back.
Who are we to say that this house is so special? It's not 100% original, it's not 100 years old, no one famous lived in it and it's not in perfect condition, so what gives us the right to declare that it's worthy of designation? The fact of the matter is that it's not the homeowner, but the process that determines whether a property can be designated. There is a set of guidelines for evaluating the property which is the same for all candidates, and the evaluation is made by an external third party. The responsibility of the homeowner is to decide whether or not to go forward with the designation at the point where it's clear that the property qualifies. As soon as we understood this, it made the decision much easier. 
What if the designation is overly restrictive and I can't sell my property? As we came to better understand the designation process, we realized that the restrictions defined in each designation is tailored to the individual property, and designed to preserve those specific elements that make them unique and desirable in the first place. Far from being a blanket decree that won't allow you to redecorate without municipal approval (a comment made to us more than once), the designation bylaw protects the elements you think are important to preserve, determined through working with the City to strike a balance between preservation and livability. Far from making the house less desirable to future buyers, the designation and its accompanying documentation acts as a sort of provenance for the property, in the same way as having documentation for a piece of art is an assurance of its authenticity and value. 
Once we overcame those initial hesitations, we realized that this is an opportunity to act proactively to demonstrate our belief in the importance of preserving built heritage.  And if we didn't act there was no guarantee that the next owners would, and that could result in the loss of the property altogether. Once the decision to move forward with the designation  was made, the process itself was very smooth and the support from both the City and local heritage groups was, and remains, exceptional. Looking back after having received both a municipal as well as a provincial designation, we feel grateful to have been given the opportunity to act on it. As the current caretakers of the Calgary Trend House we are excited that future generations will be able to enjoy the unique elements of the space as much as we do."
Learn more about Trend Houses:  www.calgarymcm.com 
Michael Kurtz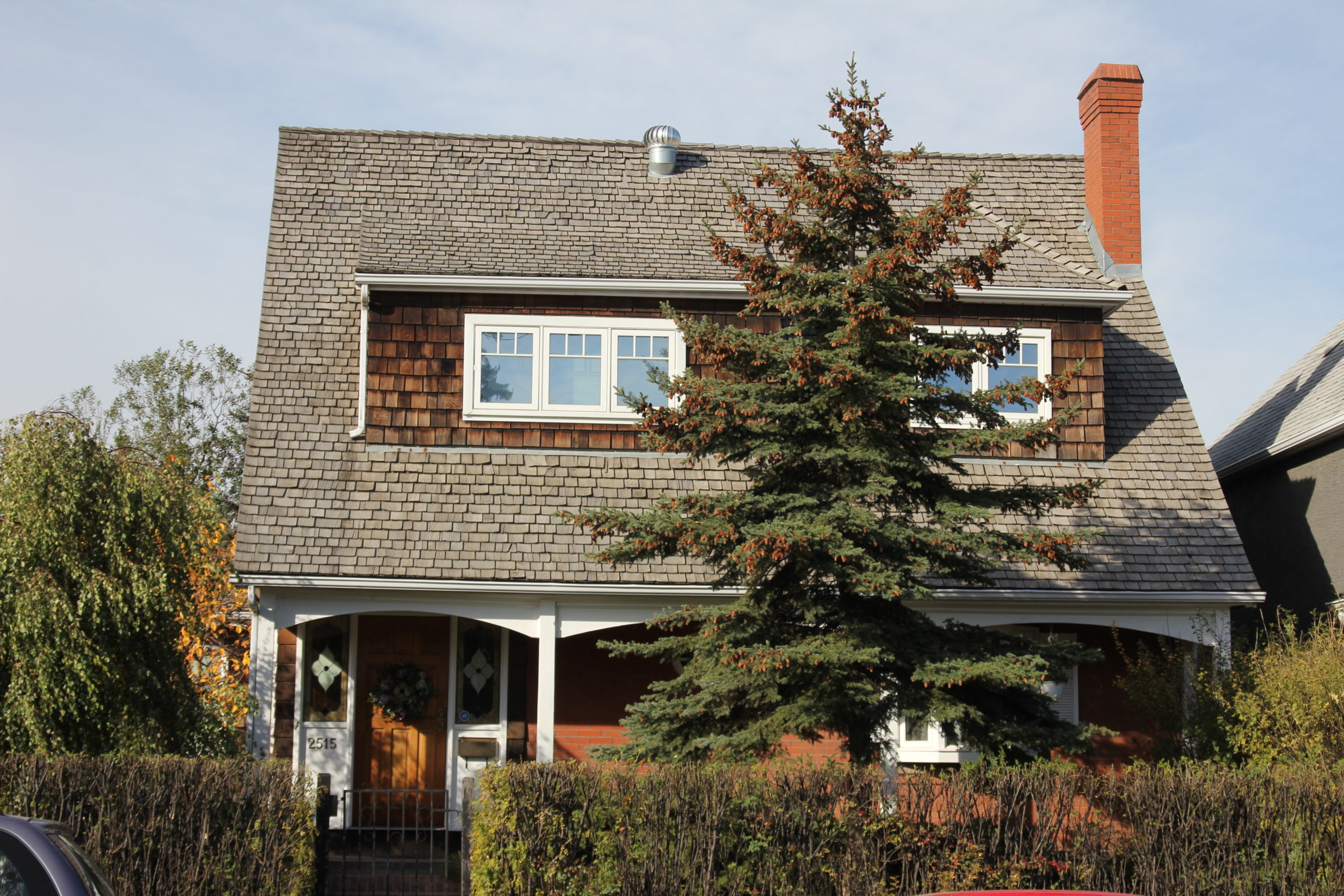 Inglewood – Pugh Residence (1912)
"Being raised in SW Calgary, Inglewood was an enigma to me when I moved here 27 years ago.  The juxtaposition of heritage homes in a small-town setting steps away from the vast acreage of the Bird Sanctuary has had me in its thrall ever since.  Unfortunately, others have discovered the charm of Inglewood as well and today, our award-winning community has caught the attention of developers who tend to maximize the size of new homes with little regard for context.  
Our 1912 brick home is well regarded as being a beauty on the street and sits comfortably on its well treed 50-foot lot.  The original developer was arguably Colonel Walker, Calgary's Citizen of the Century, who subdivided a large portion of land into residential lots in 1895, of which "2515" was purchased by John Pugh, an engineer who worked at the Calgary Malting and Brewing Company.  We believe its origins, which tie it to the original economy of the area, make it significant aside from its architecture.  The idea that it would ever be demolished to make way for two infills appalled us and we were determined to make sure that would never happen by protecting it through designation for future generations."
L.J. Robertson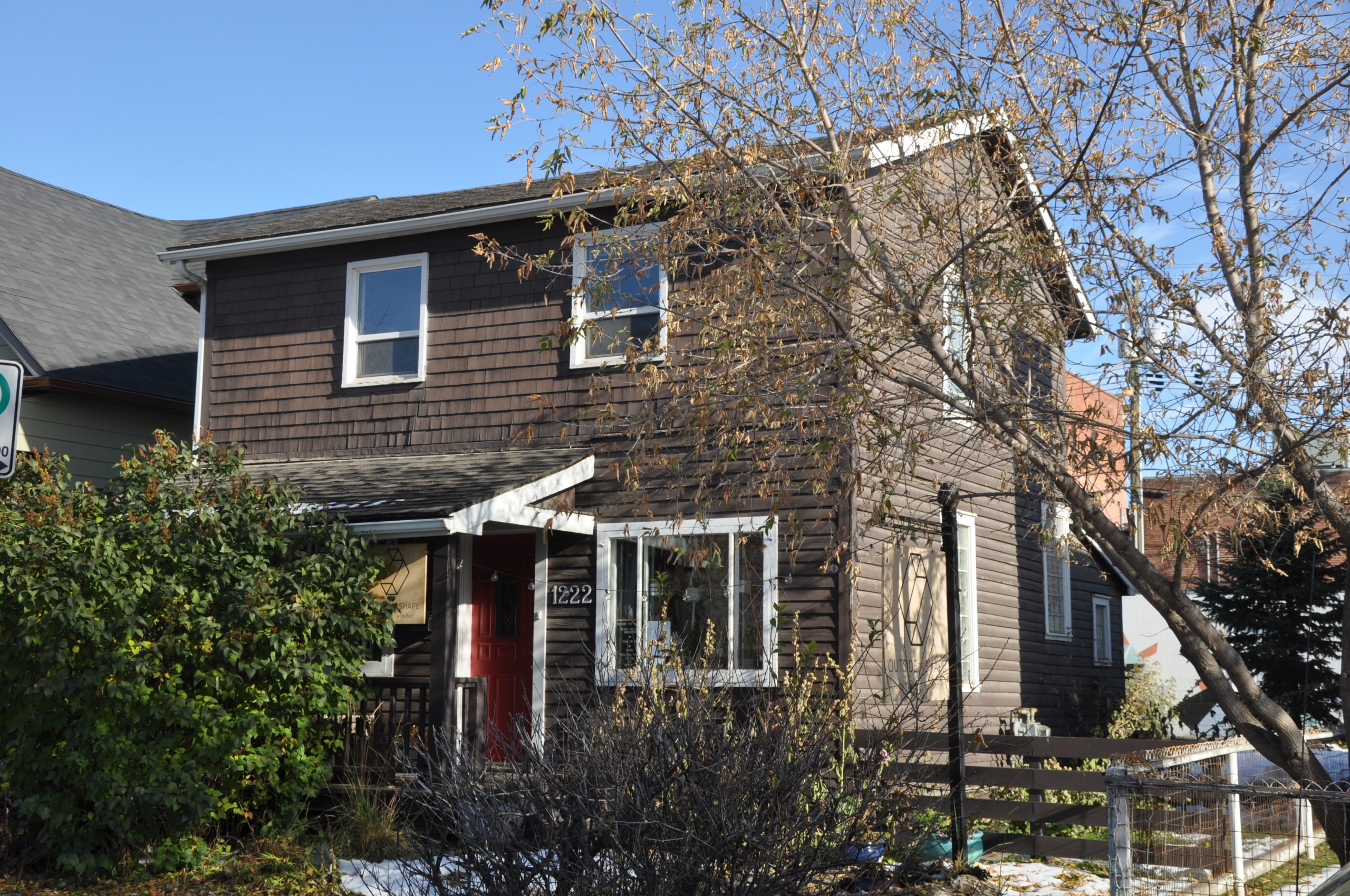 Inglewood - Gerlitz Residence (1904)
"Close to the heart of the busy "downtown" of Inglewood, I own a commercial property, albeit originally a residence, built in 1904.  It was an antique store before I purchased it and represents one of several converted homes on 10 Avenue.  One block off the main drag, the street has always been a calmer haven for some of the many small businesses that form part of the Business Improvement Area (BIA) of Inglewood.  
Since then, development pressures have increased . . . I became aware of a developer buying up homes there for demolition and redevelopment, likely triggered by the proposed location of a Greenline station a scant two blocks away.  I saw the opportunity to not only protect my Edwardian cottage from extinction but perhaps prevent aggregation of land for an over-height tower by having it municipally heritage designated.  I am hopeful that someday protection of not just the building, but the land, may contribute to a future for the heritage brand that is integral to a healthy Inglewood economy."
L.J. Robertson
South Calgary - White Residence (1915)
"One of the reasons we bought our home in 1985 was the interior – it had been maintained (by design or resistance to change – don't know) as it was originally built, with very few changes or upgrades. I had inquired as to designation in the late 80s – but at that time, designation was reserved for places that had greater historical significance. Fast forward to 2015, when I attended a workshop on designation, and my interest was piqued once again. After a conversation with my husband, we agreed that designation was a path we wanted to pursue. We had huge cooperation from the City – the Heritage Planning department made everything go quite smoothly – and we received designation in early 2017. One of the reassuring things about designation (and one that is not apparent to the uninformed) is that the entire site does not have to be designated – the owner works with the City to designate the most desirable parts of the property – in our case, while large parts of the house are designated, certain parts are not. As a result, we have been able to upgrade parts of our house that are part of the designation (the windows), as well as parts that are not (the kitchen).
The fast pace of development in our neighbourhood cemented our desire to designate. We have watched as houses around us have been torn down and replaced by infills and multi-family units. While there is no denying that more density in the inner city is important, from both a housing and development perspective, we felt, and feel that some preservation of the past helps give context to a neighbourhood. Because our house sits on a double lot, we have little doubt that should we sell, the house would be torn down, and a piece of history lost. Now – as a protected resource, I feel like our house adds some variety to our street and, indeed, to our city."
Janet Hutchinson
Hillhurst – William J Gray Residence (1911)
"When the community of Hillhurst was founded, one of the selling points was that 'great choice is exercised in the choice of people to whom to sell lots…As a result there is no foreign settlement in Hillhurst and all the new-comers speak the English language and are of Anglo-Saxon origin.'(1907 Morning Albertan). Ironically, I as a non-white immigrant chose to make my home in this community and also chose to ensure that my Edwardian style home would live on.  This is because I do relate to the culture that has evolved since those Colonial times and I do want the story of my house to be heard and seen by future generations of Calgarians.
Compelling reasons behind my decision to designate include the above plus my values relating to sustainability and the environment (the re-use of existing buildings presents significant carbon savings over the total cost of replacing a city's entire building stock). My work over the last eight years advocating for better planning policies that balance density with conservation, and wanting to make a statement by designating the first residential home in Hillhurst.
The process to designate my house as laid out by Heritage Calgary and City Heritage Planning was interesting and relatively easy. However when I chose to attend Council's meeting to represent my application I was surprised at what arose. Questions as to why my 'run of the mill' house should be preserved were raised. These questions sparked an interesting discussion and corresponding media interest. 
I would encourage heritage building owners to consider designation. More on my home's designation story can be found at:
Lorna Cordeiro
The Calgary Heritage Initiative Society/Calgarians for Heritage Districts publishes these Designation Stories on the Heritage Inspires YYC website or social media posts as an information service and is not responsible for errors, omissions or outdated information. Send any corrections or suggestions for additional Designation Stories to contact@HeritageInspiresYYC.org